Cytarabine Injection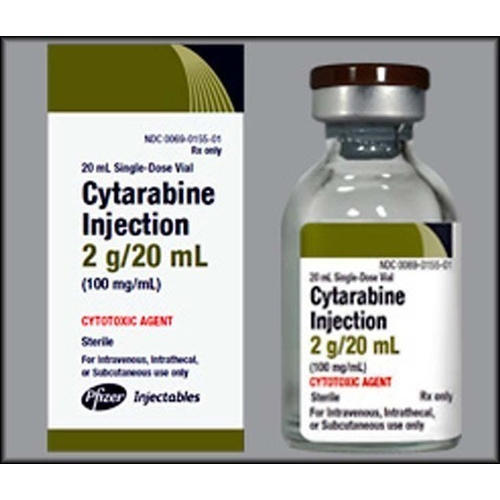 Cytarabine Injection
Product Description
Cytarabine Injection is used to treat some kinds of cancers of blood. It may be also used to treat other conditions, as determined by the doctor. It is sometimes used with certain other medicines as part of combination chemotherapy.
Cytarabine Injection is given as an injection into the vein or under skin by the healthcare professional. Your doctor will decide what dose is necessary and how often you need to take it. This will depend on what you are being treated for and may change from time to time. You should take it exactly as your doctor has advised. Taking it in the wrong way or taking too much can cause very serious side effects. It may take several weeks or months for you to see or feel the benefits but do not stop taking it unless your doctor tells you to.
The most common side effects of this medicine include rash, skin ulcer, nausea, vomiting, and hair loss. This medicine may reduce the number of blood cells (decrease red blood and white blood cells) in your blood, thereby, increasing the susceptibility to infections or bleeding. Inform your doctor if you notice chills, unusual bleeding or bruising and black and tarry stools. Regular blood tests are required to check your blood cells along with heart, liver, and blood uric acid levels.
Before taking it, tell your doctor if you have bleeding, liver, or kidney problems or are taking any medicines to treat infections. Many other medicines can affect, or be affected by, this medicine so let your doctor know all medications you are using. This medicine is not recommended during pregnancy or while breastfeeding. The use of effective contraception by both males and females during treatment is important to avoid pregnancy.
Trade Information
MUDRA PORT

Paypal Cash in Advance (CID) Cheque Cash Advance (CA)
Asia Australia North America South America Eastern Europe Western Europe Middle East Africa Central America

All India