Calcitriol And Calcium Carbonate And Zinc And Risedronate Capsules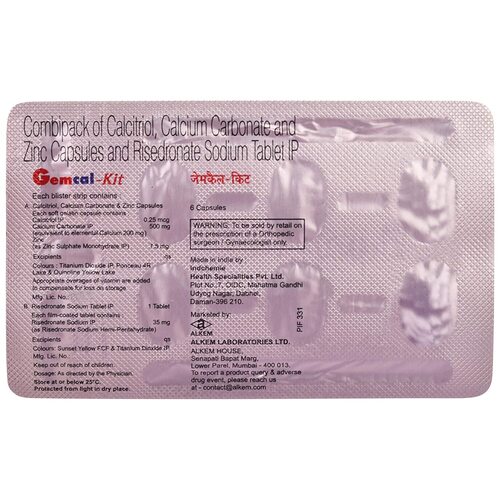 Calcitriol And Calcium Carbonate And Zinc And Risedronate Capsules
Price And Quantity
Product Specifications
Specific Drug

Calcitriol And Calcium Carbonate And Zinc And Risedronate Capsules
Capsules

Increase Immunity
Suitable For All

1-10 Boxes
Product Description
Calcitriol And Calcium Carbonate And Zinc And Risedronate Capsules is a combination medicine used in the treatment of osteoporosis. It prevents bone loss and makes the bones stronger. This way it helps in preventing bone fractures.
Calcitriol And Calcium Carbonate And Zinc And Risedronate Capsules is best taken in an empty stomach. You should take it regularly at a fixed time each day. Taking it at the same time every day will help you remember to take it. It may take several days to get the full benefit of this drug. Do not stop taking the medicine until your doctor tells you it is alright to stop. This medicine may only be part of a treatment program that may also include changes to your diet and taking other medicines and vitamin supplements.
The most common side effects of this medicine include headache, back pain, musculoskeletal (bone, muscle or joint) pain, indigestion, heartburn, and diarrhea. These are generally mild and usually resolve on their own. If they do not go away or get worse, you should let your doctor know. Your doctor may be able to suggest ways of preventing or reducing the side effects.
Before using this medicine, let your doctor know if you have any medical conditions or disorders. To make sure the medicine is safe for you, let your doctor also know all the other medicines you are taking. You may need frequent medical tests to check your kidney function and mineral levels while on treatment with this medicine. You should avoid consuming large amounts of alcohol, as it can cause bone loss. Pregnant and breastfeeding mothers should consult their doctors before using this medicine.
Trade Information
MUNDRA PORT

Western Europe Australia Central America Eastern Europe Middle East South America Asia North America Africa